Bon Secours Memorial College of Nursing holds Inaugural White Coat Ceremony for Class of 2021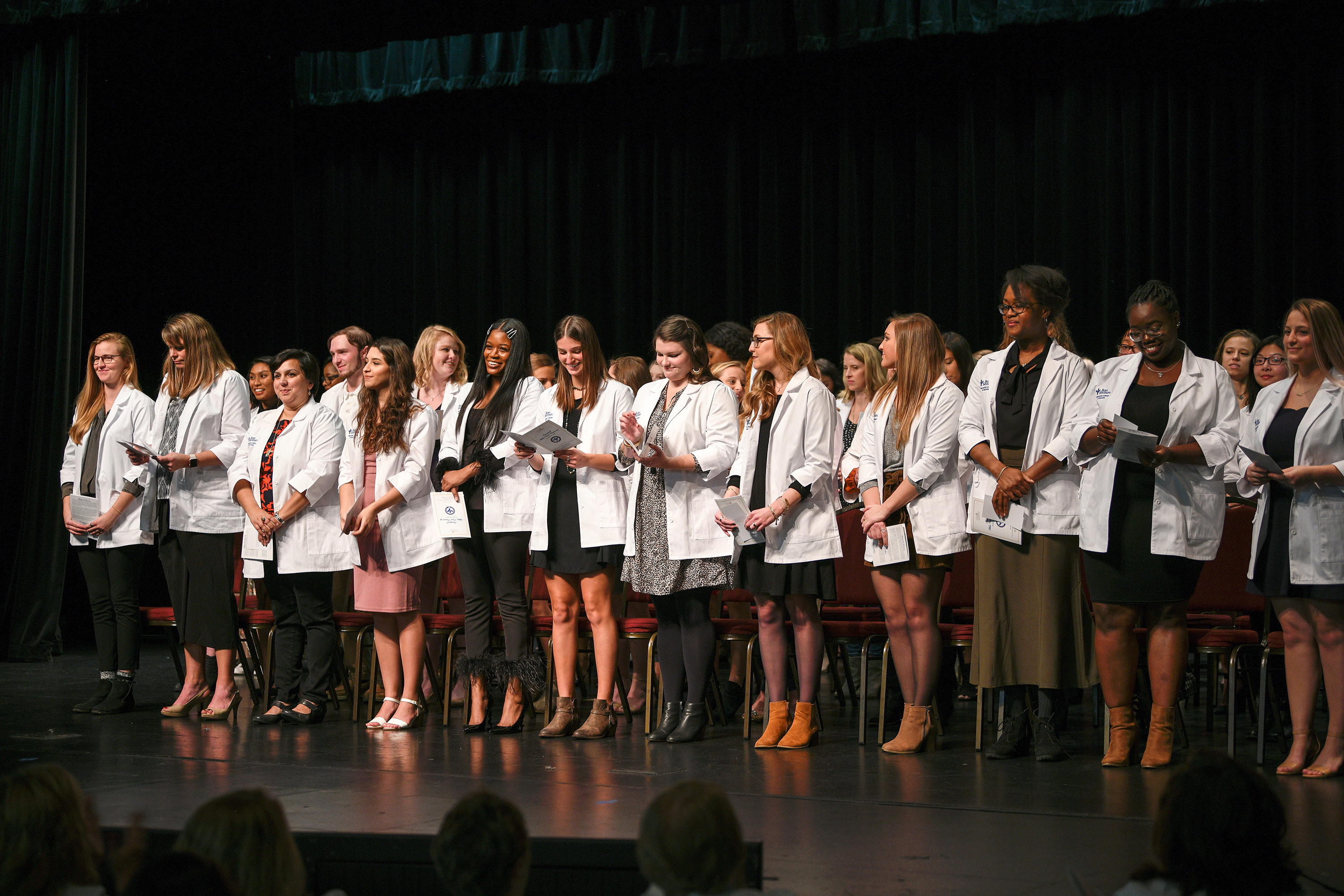 FOR IMMEDIATE RELEASE
Bon Secours Memorial College of Nursing holds
Inaugural White Coat Ceremony for Class of 2021
RICHMOND, Va. (December 11, 2019) – Bon Secours Memorial College of Nursing (BSMCON) hosted its inaugural White Coat Ceremony, a rite of passage to emphasize the importance of compassionate patient care at the very beginning of the nursing school journey. The ceremony was held at the Glen Allen Cultural Arts Center on December 9, 2019, where 74 new nursing students recited an oath to promote, advocate for, and strive to protect the health, safety and rights of patients.
"Compassionate care is one of the hallmarks that distinguish a Bon Secours nurse," said Dr. Barbara Sorbello, dean of nursing. "Compassion, knowledge, skills, integrity, and a heart for serving others are some of the key qualities professional nurses need to provide high quality patient care. The White Coat Ceremony is a commitment to that care, and we are proud to carry this tradition forward." 
During the ceremony, students came forward to be "cloaked" in the iconic white coat by Nellie League, Jody Bishop, Robin Johnson, and Barbara Gesme, each of whom are nursing executives within the Bon Secours Mercy Health System. After an oath of compassionate care was recited, the ceremony concluded with remarks from Jill Kennedy, vice president and chief nurse executive for the Richmond Market and Atlantic Group for Bon Secours Mercy Health.
The White Coat Ceremony was initiated in 1993 at Columbia University Vagelos College of Physicians & Surgeons by Arnold P. Gold, MD, who was a professor and pediatric neurologist. Dr. Gold, a passionate advocate for humanistic healthcare, believed that the oath taken by new physicians at the end of medical school came too late. Through the nonprofit organization that he and his wife, Dr. Sandra Gold, started, The Arnold P. Gold Foundation has expanded the White Coat Ceremony around the globe.
Funding for Bon Secours Memorial College of Nursing's inaugural ceremony was provided, in part, by the Gold Foundation through the generous support of its trustee and donor Elaine Adler. BSMCON was among 50 nursing schools selected this last year to launch their first White Coat Ceremony.
Today, nearly every medical school in the United States, hundreds of nursing schools, and many other health profession schools around the globe participate in this tradition of humanistic care. The Gold Foundation champions the human connection in health care. The foundation engages schools and their students, health systems, companies, and individual clinicians in the joy and meaning of humanistic health care, so that patients and their families can be partners in collaborative, compassionate and scientifically excellent care.
For more information about the White Coat Ceremony and the Gold Foundation, visit www.gold-foundation.org.
About Bon Secours Memorial College of Nursing
Bon Secours Memorial College of Nursing (BSMCON) is a faith-based college offering a Bachelor of Science in nursing and an online RN to BSN completion degree. BSMCON focuses on student-centered education, ensuring graduates are highly-skilled and prepared for a career in nursing in the spirit of Bon Secours. The College is certified to operate in Virginia by the State Council for Higher Education in Virginia and is accredited by the Accrediting Bureau of Health Education Schools. BSMCON is programmatically accredited by the Commission on Collegiate Nursing Education. BSMCON is affiliated with Memorial Regional Medical Center, part of Bon Secours Richmond Health System.

Media Contact
Elia Imler, Marketing Manager
elia_imler@bshsi.org
(804) 627-5387