Funded in collaboration with the Health Resources and Services Administration, BSMCON's Clinical Simulation & Learning Center (CSLC) provides simulation services to the BSMCON's academic programs through a variety of simulation lab experiences that are woven into the curricula. 
In November 2021, the CSLC received full accreditation by the Society for Simulation in Healthcare (SSH) in the discipline of Teaching/Education. SSH accreditation is a peer-reviewed customized evaluation of healthcare simulation programs, including examination of a program's processes and outcomes. It is the largest healthcare simulation accrediting body in the world. Achieving this designation is a mark of excellence and distinction among simulation programs around the globe. 
Mission:
The Clinical Simulation and Learning Center will provide the highest quality service and education in a respectful learning environment for the people of Bon Secours and our community, to improve the health and well-being of those in need.
Vision:
The Clinical Simulation & Learning Center will be a collaborative space where students improved their practice, faculty incorporate innovative learning strategies, and our associates want to work.
Goals:
Maintain a respectful and safe learning environment that accurately simulates health care experiences.
Develop and utilize adaptable simulation scenarios in collaboration with the subject matter experts that are reflective of best practices in healthcare.
Support the Clinical Transformation initiatives of the Bon Secours Mercy Health ministry.
Expand the Learning Center's visibility and accessibility within the community by providing learning opportunities and guidance.
The CSLC is comprised of skills labs located at 8550 Magellan Parkway, and a high fidelity simulation area located at 8570 Magellan Parkway. Clinical Units within the Center mirror actual hospital units in look and equipment, so students have the added benefit of acclimating to the hospital environment and technology.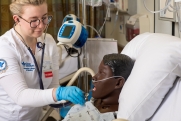 The skills labs feature Laerdal's Nursing Anne with VitalSim™ technology and Nursing Kelly with VitalSim™ technology. The two competency skills units have all the standard equipment found in an inpatient hospital setting, including a medication area, computerized medication-dispensing machine, code cart, lift equipment, a fully stocked par closet and patient care items. The health assessment skills unit is an 8 bay unit with exam tables and the standard health assesment equipment.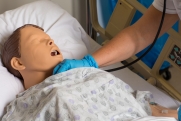 In the high fidelity Simualtion area the floor plan is intended to imitate an acute care unit and has a nurse's station, 2 exam rooms, 4 simulation rooms, 5 debriefing rooms and a home health suite.
The nurses station has the medication dispenser beside it, glucometer, computer, phones, and normal supplies found in a nurse's station.  There is an alcove for the code cart, procedure carts, and isolation carts.
The exam rooms are outfitted with exam tables, a counter and sink, exam stool, exam lights, and computer.  These rooms have the ability to record activities for later viewing.  These rooms will be utilized for student physical exam practice and check offs utilizing standardized patients.
Each of the 4 high fidelity simulation rooms is equipped with technologically advanced, life-like manikins.  The CSLC has 2 Laerdal 3G manikins, a Laerdal SimMom, a Laerdal SimBaby, and a Guamard BabyHal. These units are designed to mirror actual hospital units in look and equipment, so students have the added benefit of acclimating to the hospital environment and technology. There are computers for each room and the facility is set up with the training environment for the healthcare system's electronic medical record for use during simulations.
The home health suite consists of a living/dining/kitchen area, a small bedroom, and a full bath.  Each room has video recording capabilities.