Student Spotlight: Samantha O.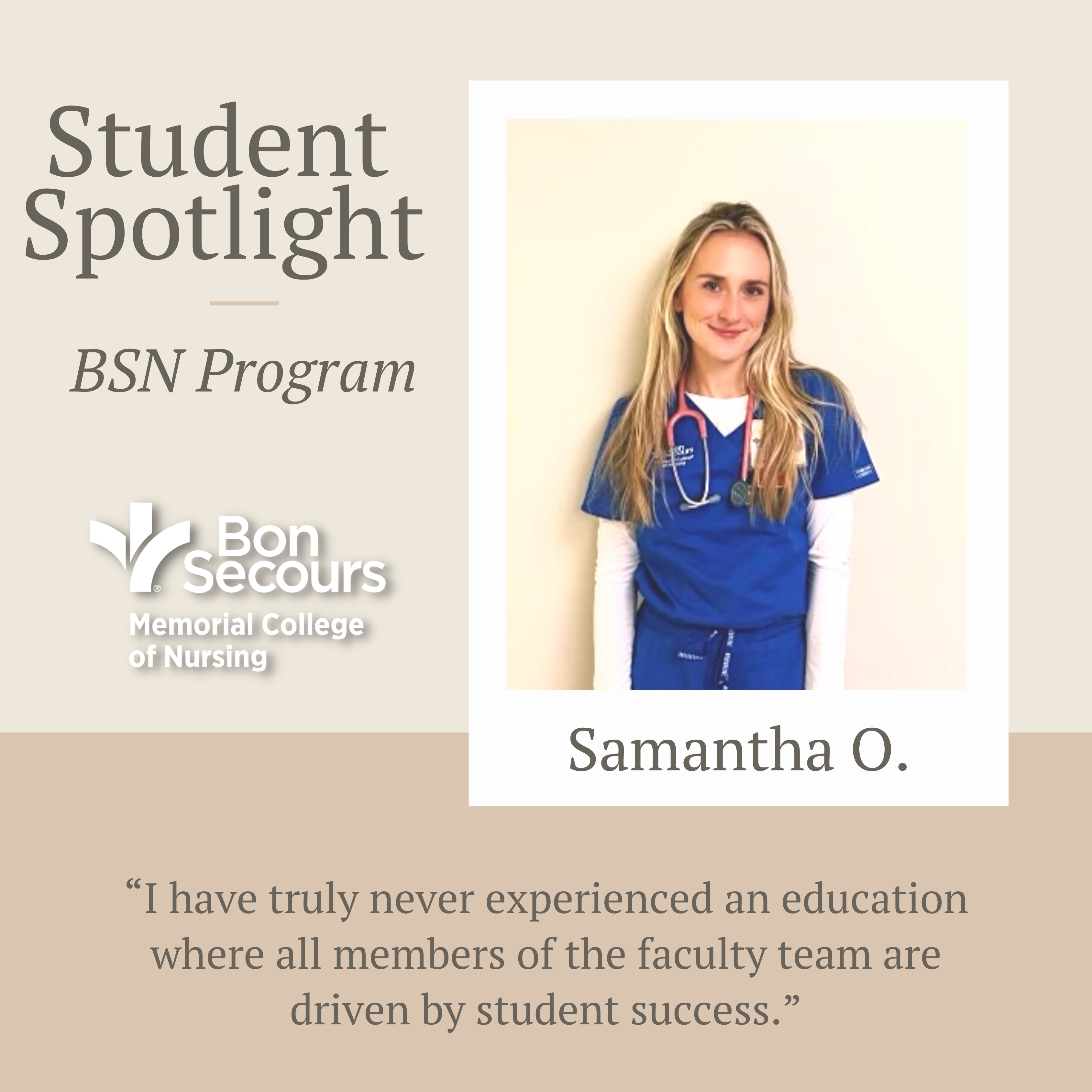 Q: Tell us a little bit about yourself.
A: I was born and raised in the surrounding area of Richmond, Virginia. For the last 2.5 years, I served as a patient care technician (PCT) at Chippenham Hospital on a telemetry trauma unit. After beginning classes at BSMCON in the spring of 2022, I was promoted to the position of a nurse extern.

Q: What motivated you to pursue a career in nursing?
A: Since a young age, I have always admired the work of registered nurses. However, around the age of 22 my grandpa became critically ill and was cared for by the intensive care unit (ICU) nurses at Memorial Regional Medical Center. For weeks, they cared for him and nearly brought him back to life. Upon his arrival, my grandpa was intubated and diagnosed with chronic heart failure, renal failure, pneumonia and possible sepsis. Once he was ventilated, we were encouraged to say our goodbyes. However, a few days after we visited him in what we thought was the last time being in his presence, my grandpa opened his eyes. In this miracle, I became drawn to the ICU and developed a strong passion for helping others in the same way that his nurses helped my family. More than anything, I grew a profound respect for critical care nurses.

Q: Why did you choose BSMCON for your education?
A: Prior to starting the program, I worked as a patient care technician and heard about the various programs in the Richmond area. However, from my research and the multitude of positive comments made about the BSMCON program, I knew that this was the place that I needed to be. While the classes are tough and curriculum is challenging, I have never experienced a support system like the one at the College.

Q: What has been your favorite experience so far at BSMCON?
A: While I have many memories to choose from, the most impactful experience I've had thus far was my trip to Grundy, Virginia as part of my Global Health Practicum. Alongside Robin Whelpley, PharmD, JeanMarie Digges, MSN and Deanna Allison, MSN, I attended two days of RAM (Remote Area Medical) where hundreds of other health care professionals delivered health care services to the population. During our stay, we slept at a local school, Mountain Mission School, where we interacted with children of all ages that came from broken homes. We also visited Dr. Whelpley's parents' farm where we made s'mores, ate delicious hotdogs and shared precious memories.

Q: Have you had mentors who have helped and encouraged you during your time at BSMCON?
A: More than anything, my love and appreciation for this program stems from the faculty. I have truly never experienced an education where all members of the faculty team are driven by student success. I believe that it's incredibly rare to find a nursing program that prioritizes students' mental health and their achievements. For example, I met with Allison Peterson, the career services manager for the College, to perfect my resume and work on my interview skills. As I was waiting, Dr. Brian Baird, my former Pharmacology II professor, provided some advice for the interview process and wished me the best of luck in my endeavor in becoming a registered nurse. I have sat with each professor and discussed my goals, and in each conversation, I was provided with words of encouragement and inspiration. Assistant professor Dawn Cullison, MSN, has remained one of my biggest supporters throughout the program as well. The faculty here is truly unlike those at any other college. Professor Cullison and the others are such a huge asset to the program.

Q: How do you see your career as a nurse evolving?
A: Upon graduation, I see myself in the critical care setting. In the upcoming years, I would love to take on more leadership roles in the hopes of becoming a charge nurse.

Q: Is there anything you've learned about yourself and how you view being a nurse that has surprised you?
A: I strongly believe that you learn a lot about yourself in nursing school. Within these past two years, I have spent many, many hours glued to my textbook and computer. Looking back, I've realized the number of sacrifices that I've made to get to the point where I am today. I've learned how to push myself past my limits. I've also learned a lot from the patients that we as nurses encounter. In the past few years as a student at BSMCON, I have learned the importance of sacrifice and developed a strong sense of resiliency. I have grown a huge respect for the nursing profession and will continue to admire the profession throughout my career.

Q: Do you have advice for your student colleagues or to prospective students you would like to share?
A: For those who are just beginning, I am envious of you. I'm not envious for studying so many hours out of the day or taking some of the most challenging exams, but I am envious because new students will be able to experience all these wonderful people for the first time. While it can be intimidating to enter a room filled with unfamiliar faces, know that you have so much support both as a student and as an individual. Advice that I can give to those that are thinking about applying: Do it! This profession is incredibly rewarding. For new students, study hard and prioritize your schoolwork. Go to office hours. Schedule zoom meetings with your professors. Ask questions in class and do your SoftChalks! Do your best and remember this: While 2.5 years may seem like an eternity, it's going to fly by. Buckle down, study hard and give it your best shot.

Q: Anything else you would like to add?
A: I am so incredibly grateful to be a student here at BSMCON. I owe a lot to my fellow classmates, faculty and clinical instructors. Without these special people, I would not be where I am today.