Congratulations to DAISY Faculty Award winner Deanna Allison, MSN, RN.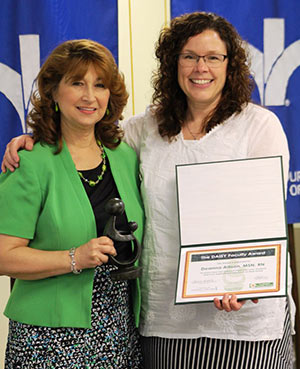 Congratulations to our newest DAISY, Deanna Allison, MSN, RN (pictured above with Dean Sorbello presenting the Healer's Touch sculpture). An excerpt from her nomination explains why she was selected as our 2017 DAISY Faculty Award winner!
The nomination read: "Deanna is a highly engaged teacher who goes the extra mile to ensure that her students are supported. She collaborated with other course faculty in the redesigned of Professional Nursing Concepts. She has served as the course lead in Adult Nursing Science I Practicum for multiple years and has led the faculty in making many improvements to the simulations and post-conference activities. Deanna routinely meets with her students one-on-one as they navigate the challenges of acclimating to nursing school and to clinical practice."
Additionally, Deanna served as the Student Government Organization (SGO) Faculty Advisor and is actively shaping our student leaders. Last year, she collaborated with faculty to support our students in establishing a National Student Nurses Association chapter here at the College. They hope to see this chapter to fruition during the next academic year.
It's this commitment to teaching, practice, service and scholarship that serves our students, enriches our community and propels our college to world-class status.