Dr. Turner Wins Leader Excellence Educator Award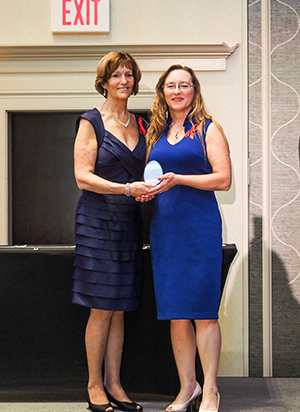 DR. CHRISTINE TURNER WINS
2019 VIRGINIA NURSES FOUNDATION
LEADERSHIP EXCELLENCE AWARD
Bon Secours Memorial College of Nursing Faculty Member Wins in Nurse Educator Category
RICHMOND, Va. (October 10, 2019) – Dr. Christine Turner of Bon Secours Memorial College of Nursing was announced as the winner of the Virginia Nurses Foundation's (VNF) 2019 Leadership Excellence Award in the Nurse Educator category. Turner was honored on September 21 at the VNF Gala, an annual event honoring the exceptional work of registered nurses across the Commonwealth. 
"We are delighted that Dr. Turner was chosen as the recipient of this highly competitive and selective award," Dr. Barbara Sorbello, dean of nursing, said. "Her accomplishments as an educator, a registered nurse and as a servant leader are exemplary. She has served with Remote Area Medical – leading student nurses and impacting underserved communities while teaching full-time, making significant contributions to the College and presenting at national conferences. We are blessed to count her among our faculty."
Leadership Excellence Awards honor registered nurses at all levels of the profession who demonstrate outstanding leadership and make a difference in the lives of patients.
"Winners of this award truly embody the spirit of what it means to be a nurse leader. They are compassionate, driven, and determined to positively impact the nursing profession. They see a need for improvement in their community and go above and beyond to deliver lasting results. Whether they are long into their nursing career or newly graduated, these individuals are creating innovative patient solutions that will shape the nursing practice for years to come," VNF President Terris Kennedy said.
About the Virginia Nurses Foundation
For more than a century, the Virginia Nurses Association (VNA) has been dedicated to nurses and nursing. Building a legacy of giving of our early pioneers, VNA established the Virginia Nurses Foundation (VNF) to continue programs of support and innovation for nurses and nursing in the Commonwealth. VNF supports the 100,000+ registered nurses across the Commonwealth by providing nursing scholarships and working to improve the health of all Virginians by advancing the future of nursing.