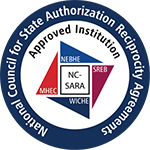 National Council for State Authorization Reciprocity Agreement (NC-SARA)

Bon Secours Memorial College of Nursing (BSMCON) participates in the National Council for State Authorization Reciprocity Agreements (NC-SARA). NC-SARA is a voluntary, regional approach to state oversight of distance education. 

Information for prospective Distance Delivery students residing out of Virginia:

BSMCON endeavors to offer all of its courses and programs to as wide as audience as possible and participates in the NC-SARA to enhance the quality and expand the access to our educational offerings.

Check the link NC-SARA for a map of participating SARA states and the list of participating institutions. If you're considering an academic program that leads to a professional license in your state, it is highly recommended that you first seek guidance from the appropriate licensing agency in your home state BEFORE beginning the academic program located outside your state. 
Information for current Bon Secours Memorial College of Nursing Distance Delivery students:

The following links will assist you in navigating resources for resolving any complaints you may have, including how your BSMCON academic program is administered. 
Student complaint process is found on our Accreditation page.
Any student who feels their complaint was not addressed fairly by following any of BSMCON's policies may file a complaint through the National Council of State Authorization Reciprocity Agreements' (NC-SARA) student complaint process by logging onto https://nc-sara.org/student-complaints .
Academic program information can be found in our College Catalog. 

Specific questions about BSMCON's Distance Education can be directed to Dr. Catherine Mikelaites, Associate Professor, Post-Licensure RN-BSN and General Education Program Chair.