The Job Search: Senior 2's
Bon Secours hires an average of 75% of our graduates.
Because of our shared values and the special relationships built during clinical classes, the majority of our students seek RN jobs with Bon Secours.  

The New Grad Interview Day held each Spring and Fall is designed to connect seniors with nursing jobs within our hospitals.  

Of course, you can approach your unit director where you work or have Clinical Immersion -- and request an interview as well.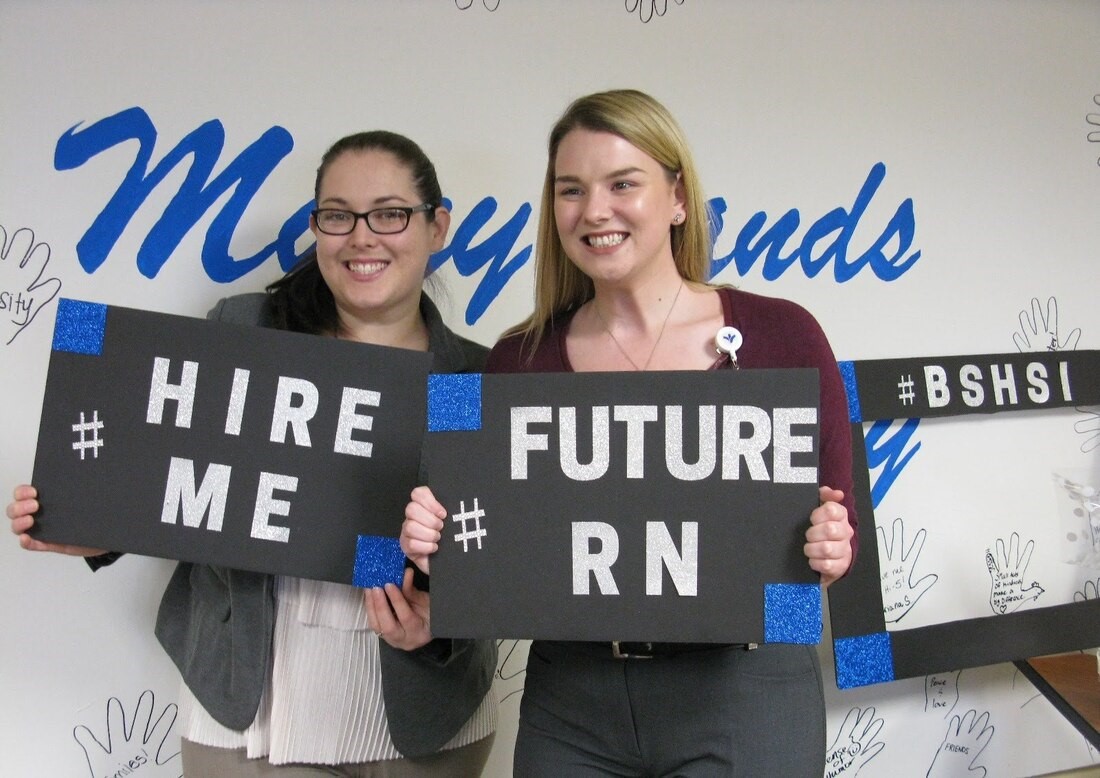 When you are ready to begin your job search, apply to nursing jobs with Bon Secours  at: careers.bonsecours.com/ and type "new" in the search field to see jobs for new grads. Talent Acquisition prefers that you apply directly to the New Graduate RN vacancy.
A nice benefits package is offered to Bon Secours employees, including health, life and dental insurance, paid time off and gym discounts. Loan repayment is also offered to graduates of our program who accept their first nursing job with Bon Secours (limitations apply.
Special things to know when searching outside of Central Virginia
Are you relocating? Check out the Long Distance Job Search Information. 
Remember to educate the employer about your nursing program -  as well as telling them about yourself. Our college may not be well-known outside of  this region.  You can educate your prospective new employer in your interview and cover letter.

A few details to know and share:

Your clinical training was rigorous and extensive; on average, our students accumulate more than 800 hours by graduation. (The Virginia Board of Nursing only requires about 450 clinical hours.)

Most of your clinical experience took place in ANCC Magnet hospitals recognized for nursing excellence. You can read more  here: www.nursecredentialing.org/Magnet

You developed skills in assessments, care plans,  electronic charting, and various procedures.  If you feel your skills are particularly strong in some area (IV insertions, for example) this is the chance to say so.
 
​Don't assume all new graduates have your level of skill. Our graduates consistently report they were more prepared and confident than peers from other nursing programs.
Transcripts:
If your new employer asks for an official college transcript, you can request one by following the link to Parchment: https://www.bsmcon.edu/transcript-request
Remember that a job offer includes compensation plus benefits.
What to ask the recruiter/Human Resources?
Questions about pay
Benefits (like PTO, health insurance...)
A relocation package (if you are moving)
The Nurse Residency Program
Loan repayment programs
Reimbursement for NCLEX
What to ask the Hiring Manager?
Orientation & training
Starting dates
Shifts /Holidays
Advancement opportunities, including the Clinical Ladder and certification
Should I accept this job?
There are many things to consider as you weigh a job offer.  Learn as much as you can:
Ask classmates who may have worked on the unit to give you their insights
Ask your faculty 
Ask the Career Counselor about alumni who have worked in that hospital.
Ask to "shadow" on the unit for a few hours, and make your own assessment of the teamwork and culture, pace and patient population.​ (During the COVID-19 pandemic, shadowing may not be offered, but ask anyway.)
Make a list of  pro's and con's - and be honest with yourself.
Discuss this important decision with friends and family members you trust. 
Think seriously about the shift and commute.
​Remember, you are only deciding where to begin your nursing career. You can change roles as your interests and career goals evolve.
Finally, trust YOURSELF. You've made good decisions in the past. You'll make a good decision now.